Shower Heads – Replacement & Repair Specialists
Shower heads can be the difference between taking just a shower and having a great & even a relaxing experience. These days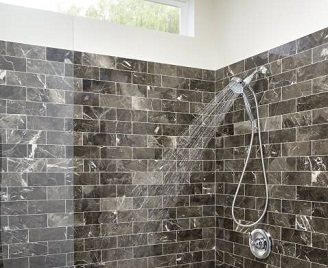 showering is a normal part of our daily routine. In fact, showers are more common than baths and use less water than that of a bath. Ask anybody and they say a good shower head is the most important aspect of creating a great shower experience.
Because showers in our homes are used so often sooner or later, even the best shower heads will require repairs or replacements. Some common indicators of problems include:
Low Water Pressure
Leaks
Clogs
Forceful Streams of Water
When a problem occurs with shower heads, it is just annoying but these problems shouldn't be ignored. Problems can contribute to increasing water and electric bills. Some issues with shower heads can be an indicator of a bigger plumbing problem. However, a small leak or other problems with shower heads can also be a blessing in disguise. Today thanks to advancements in technology shower heads have advanced in design, functionality, and affordability. Before replacing your shower head check out some design and feature options such as:
Styles & Functionality
Hand Held or Mounted
Adjustable Flow Controls
Adjustable Water Stream Control
Water Saving Low Flow
Top Rated Showers Heads From Moen the #1 Faucet Brand in North America
If you're looking to replace your shower heads or are planning to remodel your bathroom with upgraded fixtures that are more efficient, stylish and functional we have got you covered with the best quality equipment. We have partnered with Moen, the #1 faucet brand in North America to offer the Engage 26100 MagnetixTM shower head. Awarded "Top 100 Best New Products 2015" by the hit TV show This Old House the Engage 26100 MagnetixTM shower head offers:
High-Quality Features
Streamlined Design
Magnetic Docking
The Promise of the Moen Brand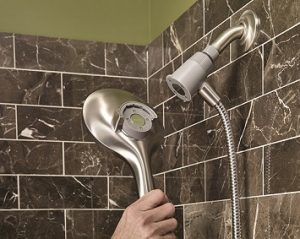 Magnetix is an innovation that was truly designed with the user in mind. Not only do the shower heads feature superior spray performance, docking the shower head is now easier and more intuitive. With magnetic docking, which allows for easy release and securely snaps back into place – even when your eyes are closed.
No High-Pressure Sales – Just Honest, Reliable Service
From simple shower head repairs to complete shower heads replacements and everywhere in between, there is no job too big or too small. Please don't wait until your problem becomes worse as it's possible, the longer you wait, the bigger & more expensive your repair can become. Our entire staff is always courteous, dependable, and friendly whenever your issues arise. Our mission is your complete satisfaction no matter what your needs. To get a quote on your shower heads needs in Collier County call (239) 597-1442. In Lee County call (239) 482-3888.
Fast Service On
Kitchen & Bath Remodeling
Sewer & Drain Cleaning
Backflow Preventors
Camera & Video Sewer - Drain Inspections
Installation & Repairs of Lift Stations
Residential & Commercial Service & Repair
#1 Service Provider
In SWFL for 42 Years
28 Service Vehicles & Over 40 Employees
No High-Pressure Sales - Just Honest, Reliable Service
Professional Licensed Technicians
Home Advisors - SWFL'S Top-Rated Plumbing Contractor