Polybutylene Pipes Causing Home Insurance Woes
If your home or building was built between the late 70's and mid 90's, polybutylene pipes may have been used for your plum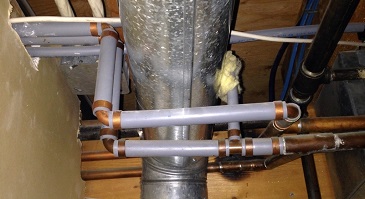 bing
system. So, what's wrong with polybutylene pipes? To put it simply, they have an unusually high rate of failure under normal operating conditions. Deterioration linked to chlorine water additives has been linked to the failures, however, customers on private water supplies have reported many problems as well.
In 1995, a class action suit brought by homeowners with failing pipes resulted in the creation of a settlement fund that set aside $1.1 billion for manufacturers to settle claims with homeowners. Unfortunately, the lawsuit was settled and all claims had to be filed before May 9, 2009.

What are Polybutylene Pipes?
If you're asking yourself, "What are Polybutylene Pipes?" There are some real simple ways to find out and to look for:
Polybutylene pipe is gray.
Polybutylene pipe was installed and manufactured from the late 1970's till the mid-1990's,
however, stockpiles of polybutylene pipe at supply vendors, such as supply risers were still known to be available up to 1999.
The most common sizes for polybutylene pipe are 3/8″, ½", ¾" and 1″.
Polybutylene piping was used for both residential and commercial buildings
Polybutylene pipe connectors can be copper, brass, or plastic. The connector types are barbed with a crimp ring or compression with a plastic or metal ferrule.
Polybutylene Pipes & Selling of Buying a Home
If you are considering selling your home and it was built between the late 70's & the mid-1990's give us a call to inspect your home for poly pipe. The last thing you want is your home sale to drag on or not happen at all because of having poly pipe in your home. We can help determine if you have poly pipe & provide you the best or most affordable options to fix this potential flood issue.
Some real estate agents have indicated homes with poly pipes can sell for less money or take longer to sell. Frequently, a home inspector flags the poly pipe problem, and the pipes are replaced before closing. Unfortunately, we do not know how many prospective buyers simply ignore homes with poly because they recognize it as a potentially costly problem from the start.
Polybutylene Pipes & Homeowners Insurance
Buying a new home is an exciting time. Be sure to ask that a pre-sale home inspection checks for poly pipes and the findings are noted on the inspection report. Even if you choose to buy a home with documented poly pipe there may be only a few Florida homeowners' insurance companies that are willing to insure your home. If they do, it's only with sharply limited coverage for water damage.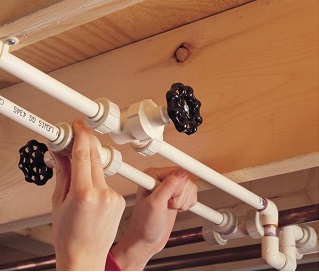 If you are already a homeowner of a house built between the 70's and the 90's double check your current homeowners' insurance policy to make sure you don't have a poly pipes exclusion against a water-damage claim.
Replacing Polybutylene Pipes
Even if you aren't buying or selling a home, and your home was built between the mid 70's & the mid 90's it's important to schedule a plumbing inspection to know whether your plumbing is poly. United Plumbing of Southwest Florida has been helping homeowners resolve polybutylene plumbing issues since 1982. To schedule and inspection of your plumbing in Collier County call (239) 597-1442 in Lee County call (239) 482-3888.