"Senior Friendly" Plumbing Fixture Tips
As people begin to age, they become more dependent on others to help assist with things they were once capable of doing. The average life expectancy of both men and women in the US has grown to 78 years of age. Our aging population makes the topic of a "senior friendly" home more important than ever.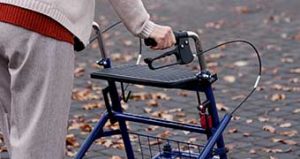 Seniors can easily become a victim of their home since they are not as agile as they once were. It is very common for seniors to insist they not leave their home. We have all heard about the struggle of not knowing what to do with a grandparent or parent as they age. Some options usually include discussing independent care or an assisted living facility and in some cases nursing home care. These decisions are not only emotional they can be costly ranging anywhere between $40,000-$80,000 a year.
On average, seniors can easily save at least $17,000 per year when they can remain in their homes. By extending the amount of time our seniors stays in their home, you are not only saving them and their family money, but also extending their quality of life. However, to reap the benefits, both seniors and their families should make their home more accommodating for "senior living".
"Senior Friendly" Plumbing Fixture Ideas
Plumbing may not seem like a useful "senior living" tool to help assist senior homeowners to remain independent, but there are plenty of things a plumber can do to help make a home more "senior friendly." United Plumbing of SWFL can affordably contribute to making all your plumbing and plumbing fixtures safer and "senior friendly."
Grab Bars – 1 out of every 4 seniors fall each year. When properly placed, grab bars help to provide the best leverage for sitting down and rising from toilets and bathtub/showers.
Bath / Shower – Options depending on budget. Low budget installs can include grab bars, shower seats, and non-slip decal that fit within most bathtubs. Medium budgets can redesign the bathtub to a walk-in shower or even replace it with a roll in shower.
Water Temperature – Seniors are at a higher risk for being scalded by hot water. It is suggested to install a mixing valve for your water heater or to replace your water heater with a tankless water heater as the temperature can be controlled.
Faucets – Faucets have a few great options. Lever-handled faucets are simpler to turn on and off than most faucet handles. There are also hands-free, motion-sensing faucets that eliminate the need to turn on/off the faucet altogether.
Sinks – Typically wall-hung, Wheelchair sinks have an opening below for wheelchairs. There are many sinks options for retrofitting into current spaces.
Pot filler – In the kitchen, pot fillers can easily eliminate having to carry a heavy pot to the stove.
Toilets – It is important to adjust your toilet to a proper height for comfortability and safety. Simple fixes are adding grab bars and a toilet riser. Another suggestion would be to replace the toilet with a floor mounted, elevated toilet. If required for additional assistance, some floor mounted toilets are equipped with flip-up grab bars.
Contact Us for "Senior Living" Plumbing Fixtures Today
It's important that seniors can move around their home safely. These simple changes can help seniors not only be safe but stay safe in their home longer. United Plumbing of Southwest Florida can answer any of your questions and are happy to assist making your home's plumbing "senior friendly."  We are a local, family owned company that is known for trusted, quality service. Call us today at (239) 482-3888!